Celebrating global leadership: October roundup
Celebrating global leadership in sustainability, resilience, equity, health and wellness.
Did you know that all LEED-certified buildings have access to Arc? Arc is GBCI's state-of-the-art digital platform for measuring and tracking building performance in key areas that align with LEED v4.1 Operations and Maintenance categories. More than 21,000 projects across the world are currently using Arc to pursue LEED, and more importantly, to work toward their sustainability, resilience, equity, health and wellness goals. Below are a few projects featured in the new LEED Lookbook, several of which track their data in Arc.
Resilience
Delhi Metro Rail Corporation (Pragati Maidan Metro Station) in Delhi, India
The Delhi Metro Rail Corporation (DMRC) is the first transit system in the world to earn LEED certification, and monitors their data in Arc. To further improve the resilience of this sprawling metro system, which serves an average of 4.7 million customers daily, DMRC is using  PEER certification to modernize and build resilience into each of their metro lines. Most recently, the Blue Line (which includes 51 stations) added solar panels to generate 12-15% of their station consumption. Additional strategies have reduced their energy savings by 30-35%, while providing them with more reliable, resilient and sustainable infrastructure.
Health and wellness
Method Soap Factory (People Against Dirty) in Chicago, Illinois
The Method Soap Factory achieved the world's first LEED Zero Waste certification through their dual TRUE Platinum and LEED Platinum certifications. Located in Chicago's South Side, its 75,000 square foot (6,968 square meter) rooftop greenhouse produces one million pounds of food annually, which is sold to local restaurants for "roof-to-table" fresh produce.  
Beyond their rooftop garden, Method's cleaning products are produced "with the future in mind." The factory itself houses manufacturing, bottling and distribution all under one roof, which dramatically cuts down on its carbon footprint. A 230-foot (70 meter) 600kW wind turbine produces about 30% of the factory's energy, and three solar trees each with 60PV modules can supply 45.9 kW of energy. Method cleaning products, found all over the world, offer a more sustainable alternative to keep customers safe and healthy in their own homes and workplaces.  
Equity
CBF Phillip Merrill Environmental Center in Annapolis, Maryland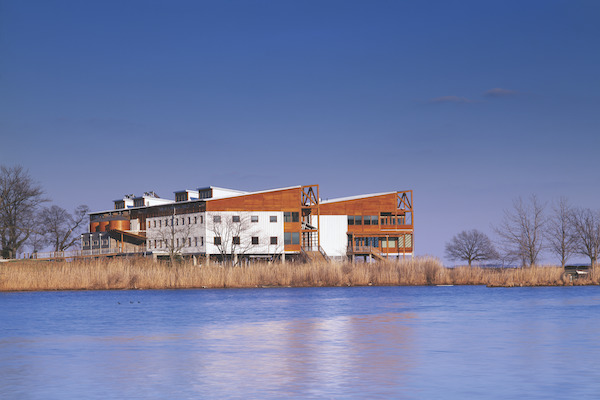 The Phillip Merrill Environmental Center, the first LEED certified project in the United States, is home to the Chesapeake Bay Foundation, which works to eliminate pollution in the Chesapeake Bay watershed, and serves as an educational space, providing hands-on experiences and knowledge about the bay to students, business groups and volunteers. The Chesapeake Bay Foundation's mission is to improve the health of the bay through education, advocacy, litigation and restoration. CBF is committed to ensuring that all people have equal access to a clean and healthy environment in the region, with emphasis on the disenfranchised communities that often bear the brunt of environmental pollution. The Center utilized many technologies once thought only suitable for residential projects, like ground-source heat pumps, natural ventilation, rainwater harvesting, composting toilets and structurally insulated panels. It was also one of the first commercial projects to use technologies like rainwater collection systems, and have helped reduce water use by 90%.  
Sustainability
Empire State Building in New York, New York
Arguably one of the most well-recognized buildings in the world, the Empire State Building hasn't rested on its laurels. It has been recertified twice through the Arc platform, most recently achieving LEED v4 Gold recertification. All 6,514 windows are modernized, quadrupling the energy performance while reusing over 96% of existing materials all on-site. Further, its elevators use a technology called "regenerative braking," which allows them to store energy when they slow to a stop and redirect that power back to the building. 100% of its electricity consumption has been offset with Renewable Energy Credits since 2011. Built in 1930, the Empire State Building proves that older buildings have the capability to pursue sustainability. Recertification provides an invaluable opportunity to maintain that initial investment, improve performance and build on the latest advancements. Using the Arc platform, projects of all size can monitor operations and maintenance data to work toward specific goals. The Empire State building goes to prove that even older buildings can keep pace with our ever-expanding understanding of sustainability.  
Check out the original 4 Pillars newsletter here, and subscribe to GBCI to receive future program updates.