Workplaces that promote employee health and well-being
Physical work environment impacts employee lifestyle, health and well-being in a lot of ways as employees spend a significant part of their hours at their workplaces. With careful planning and by taking a human centric approach, employers can create workplaces that boost both the physical and mental health of the employees and improve their quality of life.
GBCI India and Saint Gobain Research India recently released a joint study, Healthy Workplaces for Healthier People, that evaluates the health performance of office buildings in India. The study evaluated 30 offices located in nine cities of India. Building data collected from project teams and professionals who work at the buildings, along with onsite measurements and inspection; and occupant feedback collected through online surveys were all analysed to determine whether the buildings were delivering healthy and comfortable spaces. One of the critical components of this study was to understand the general trend in Indian office workers' health, lifestyle and workplace habits by analyzing the data from the online survey taken by 1500 people.
Access the Workplace Health Study
Snapshot of people's health and lifestyle
Study findings show that lifestyle related diseases are affecting a large proportion of the workforce. 44% of the survey respondents reported having one or more lifestyle-related health issues in the past year, such as obesity, high blood pressure, high cholesterol levels and diabetes, and 15% reported having more than one health issue. Analysis of the calculated body mass index of all respondents showed that 53% were overweight or obese. 
Sleep quality
37% of occupants reported sleep-related problems like difficulty falling asleep and not getting enough restful sleep. Data showed that lifestyle-related diseases were 23% higher from occupants with sleep-related issues than occupants with no sleep issues.
Study findings revealed that lack of access to quality views has a connection with people's sleep quality. People who reported having a good view of the outdoors reported fewer sleep-related problems than those with poor or no views. Considering that 74% of the survey respondents reported either no external view or a poor-quality view, these findings indicate a potential for improvement in the workspace layout design to maximize occupants' connection with the outdoors and thus enhance the health, particularly the mental health, and well-being of employees.
Risk factors contributing to lifestyle disorders
Prolonged sitting
Sitting for very long hours without adequate breaks can lead to musculoskeletal issues and can increase the risks of other lifestyle-related health disorders like diabetes and heart diseases. Study revealed that prolonged sitting is prevalent amongst occupants. 64% reported sitting for 8 to 10 hours daily at their workstation, and only 19% took a break every hour. Not surprisingly, 66% of the surveyed occupants reported musculoskeletal issues. For people with desk-based jobs, it is imperative to reduce sitting time to the extent possible and take a break from sitting every hour to stretch and do some gentle exercises.
Informing employees about the adverse health impacts of prolonged sitting and encouraging a culture of microbreaks to reduce prolonged uninterrupted sitting time, can reduce sedentary behaviour in the workplace.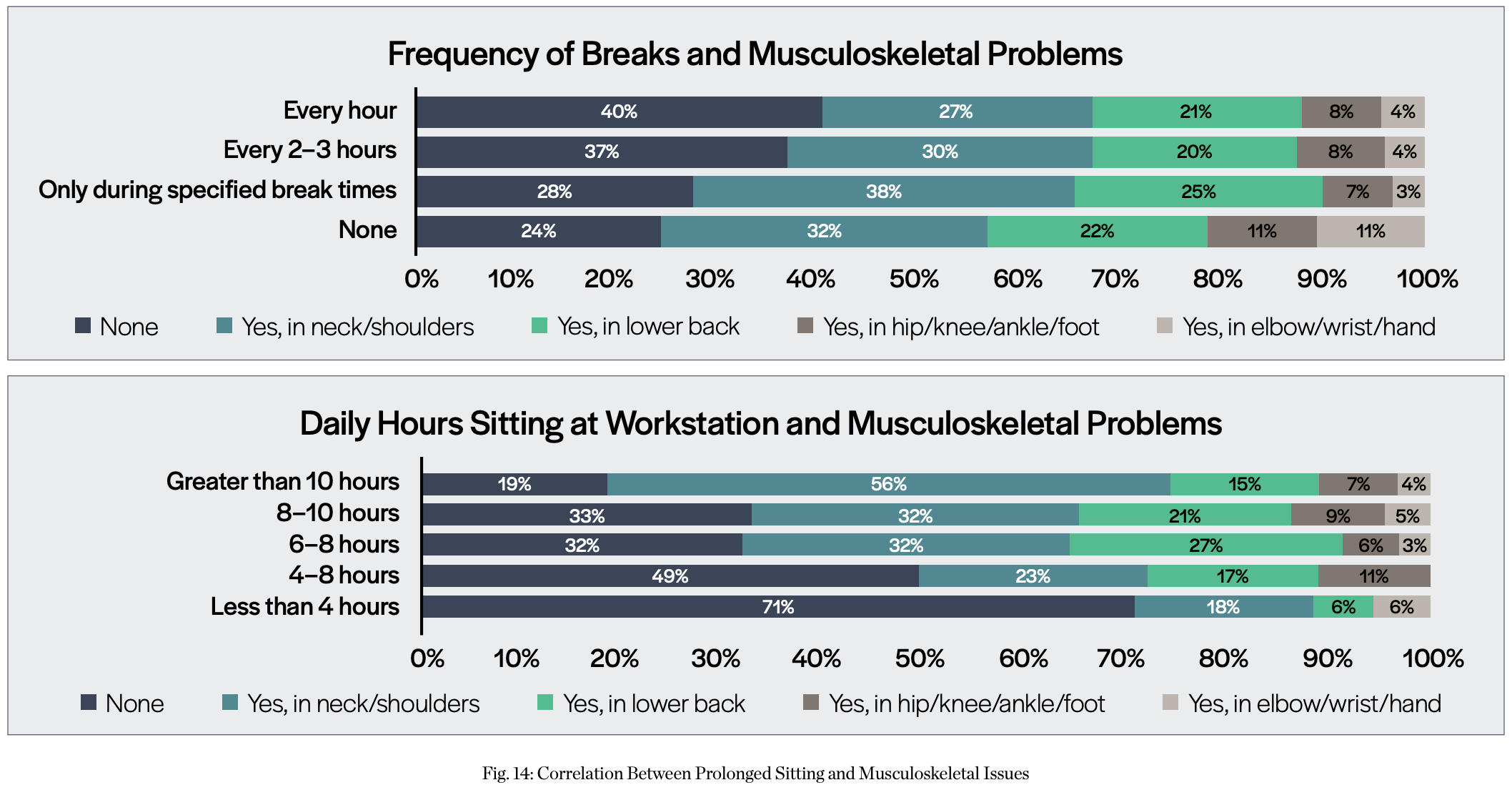 Unhealthy diet
Intake of fresh fruits and vegetables was found to be very low amongst the respondents. There was a direct link between the consumption of fresh fruits and vegetables and lifestyle diseases; people who ate two or more servings of fruits and vegetables daily reported less instances of lifestyle diseases.
Providing nutritious food and beverage options within office premises can go a long way in increasing the nutritional intake of employees during working hours.
Physical activity
Study data indicated that most of the survey respondents get some form of exercise, though only 34% reported doing vigorous physical exercise. People engaging in vigorous activities had less incidences of lifestyle diseases compared to those who did moderate activities or did not perform any physical activity.
While any form of exercise is beneficial for health, it is essential to educate people on the type and duration of physical activity required for a healthy lifestyle. Employers can support their employees with memberships to gyms or incorporate active design strategies to transform sedentary office environments into healthier spaces.
Workplace interventions can encourage a healthy lifestyle 
The study findings indicate a trend of unhealthy lifestyle amongst the working population. Though maintaining a healthy lifestyle is a personal choice, there are several workplace interventions that can bring about positive changes to people's lifestyle and overall well-being.
Read the Healthy Workplaces for Healthier People study to get more information on health performance of workplaces in India, and to learn strategies to ensure occupant health is prioritized in these spaces.